Even if you're not ready to start sending announcements to your fans, it's still a good idea to start gathering emails. (to check out my form click on my "mailing-list" link in the box on the top right)
My advice, create a Google Document, called a Form. A form is easily customized, and automatically stores submitted content to a spreadsheet. They're free, and all you need is a gmail account.
To start, log into your Gmail account and click "documents" on the top left.
From here click "create new -> form"
Write in your title, and a description, then create input fields. I recommend things such as "Name, City, and Email" but you can add fun questions too.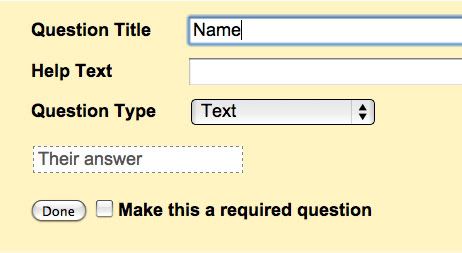 To add new questions, you can click "add new topic" from the top or there is a duplicate button on the right of every topic box.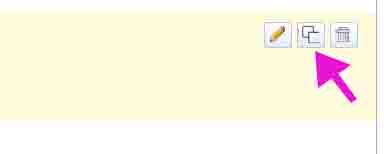 Once you have all the questions filled in you can chose a theme on the top left.

Now that you've got your form created, you can embed it in your website, by getting the code here: (on the top right) 

Also to view your form, there is a link at the bottom of the page:

and on the form page, you can copy the url to link to the form on your website, facebook or twitter. (What's great is that if you ever change the theme of the form, or any of the text fields, the link will remain the same.) 
All the submissions will be automatically added to a spreadsheet that can be accessed in the google documents page.
To edit the form from the spreadsheet view click "Form -> edit form"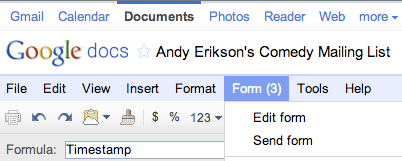 So that's creating a mailing list!
Basically this is just a way to store and help acquire email addresses, and is not a way to manage and send out emails, but it's a good start, and it's free!
let me know if you have any questions, or want help adding the form to your website or blog! My advice is to link to the form and have it open in a new window. use a url shortener like http://bit.ly