 Andy Erikson - Last Comic Standing Season 9 ALL THE SETS
Watch all of Andy's appearances and sets on season 9 of Last Comic Standing!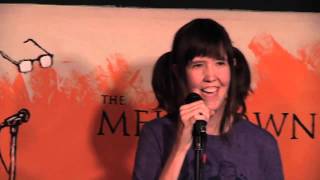 Andy Erikson at The Meltdown
Andy Erikson performing a showcase set at The Meltdown show with Jonah and Kumail at Meltdown Comics. There's a pretty neat surprise at the end too.
Join My Mailing List!
Stay up to date with my comedy unicorn adventures and upcoming shows!
Join Now!
Andy Erikson and The Unicorns – A Walk For Victory!

Imagine discovering that you or a loved one has a life threatening heart condition. At the initial diagnosis you would be confused and scared and probably devastated. But you, like most of us, wouldn't throw in the towel, because human beings are extremely resilient. We don't give up when faced with a challenge. We fight. We learn. We grow. So if you found out you had Marfan Syndrome you would find that there are treatments, knowledgable doctors, and an amazing community. You would find others who have this disorder and you would begin to learn how to live a healthy and productive life. Yes, you will have to take medicine, get regular checkups and maybe even have to have surgery. It doesn't sound all that fun.

Now, imagine the alternative. Imagine not knowing that you had a heart condition until it was too late. Out of the blue you are hit with an intense pain in your chest, or your vision goes dark, or your lung collapses. It would be incredibly scary. And it could also be prevented! That's the good news.

Knowing that you have Marfan Syndrome, just simply having a diagnosis, will increase your life expectancy, and quality of life greatly. Often you will have the same life expectancy as the typical American. There is medicine you can take, surgeries you can have, and doctors you can talk to and learn from and have an amazing and wonderful life. You will cry. You will fight. You will fall down. You won't give up. You will be inspired and inspire others.

Marfan Syndrome is a complex disorder and can manifest itself in many different ways.

Here are some of the physical signs:




Long arms, legs and fingers


Tall and thin body type


Curved spine


Chest sinks in or sticks out


Flexible joints


Flat feet


Crowded teeth


Stretch marks on the skin that are not related to weight gain or loss




I have every single one of these signs. I was diagnosed when I was 2 years old. My mom had to fight to get the diagnosis so we could begin treatment, but once we had the diagnosis, life became so much easier. My parents had a plan of attack. They new a little better what to expect and it was a lot less scary. Getting a diagnosis is becoming easier as there is more awareness, but we are far from done!

These are the surgeries I have had throughout my life. (So far.)

I had foot surgery at the age of 2. I was in a wheelchair for several months, and had to wear casts then leg braces for over a year.

I had open heart surgery and aortic valve replacement in 4th grade. I was 9 years old. I bounced back pretty quick but was told I would have to have my blood drawn every 2 to 4 weeks for the rest of my life to test my Coumadin levels. I remember screaming that I wanted to die while in the hospital bed, because being poked with needles at that age, and being told that it would become a regular part of your life, really did seem like the worst possible scenario. I've since become accustomed to needles and no longer cry before, after, or during, but I ALWAYS get my sticker. :)

At the age of 19, and during my sophomore year in college, I had to have back surgery to fuse my spine together and insert titanium rods to straighten my back out. The surgery caught me off guard. I had planned to study abroad in Australia for a semester but had to call that off. It would be an extremely painful recovery, one that takes 2 full years to get back to your old self. I grew about 2 inches after the surgery, and luckily for now, only have occasional back and neck pain.

At the age of 23 the lens in my right eye detached and fell forward on to my cornea. My vision suddenly went blurry. I had been told to go to hospital immediately if something sudden changes with my vision so I did just that. In less then 24 hours I went in for emergency surgery and had the lens removed from my eye. It took several months to recover, but now my vision in the right eye is better than it has ever been. I just have to wear a contact every day. I can no longer wear glasses, which is a little frustrating, but having my vision is important enough that I don't get too upset.

Those are the surgeries I have had so far, relating to my Marfan Syndrome. I'm not telling you all this so that you feel bad for me. I'm telling you so you are proud of how far I have come, and acknowledge how fortunate we are that such treatments and surgeries even exist. Without my diagnosis, I probably wouldn't be alive today.

All of these life saving surgeries, medicines and treatments wouldn't be possible without research and scientific discovery and none of this would be possible, without donations from people like you.

The goal is simple. We want to spread awareness, raise money, and save lives. If we can educate each other, and educate health professionals, and fund more research, we can make a tangible and noticeable difference. 1 in 5,000 people has Marfan Syndrome. But 1 in 10,000 people doesn't know that they have it.

There is great need for more fundraising, and I am honored to be a part of the Walk for Victory in Pasadena on May 21st

Thank you for reading this, and thank you for supporting my walk for victory! Every donation will be cherished. If you can help in any way I am extremely grateful.

To sponsor ANDY ERIKSON AND THE UNICORNS - WALK FOR VICTORY - GO HERE!

For more inform about Marfan Syndrome visit —> http://www.marfan.org/about/marfan

THANK YOU!

I LOVE YOU!

First New Jokes of 2016! // Jan 15

I totally approve of war on drugs. It's actually the only way I've found I can enjoy that card game.

I have this strange feeling that my improv teacher is making it up as she goes.

A dog ate a stick of my deodorant and I couldn't get mad. I was like, I guess that's how dogs put on deodorant.

You can wear sunglasses indoors if you're a poker player, or if you live in a tanning bed. And that's it.

Wait... You can say no to drugs?

I don't think it's fair that you have to have big boobs to work at Hooters, but you don't have to have a big wiener to work at Dicks.

A tattoo artist without any tattoos, is like a skinny chef. Except WAAAAAY shadier.

What do you call it when a comedian has a breakthrough on a joke they're writing? "A haha! Moment."

"What do you want to be when you blow up?" - interview with a baby bomb.

Sticks and stones may break my bones, but this selfie stick is why people are making fun of me.



Thank you for reading and for any and all feedback! Let me know which jokes you liked, loved, or perhaps confused you! :)

Don't forget to join my mailing list to find out when I'll be performing in a city near you!

New Jokes! From snow cones to stickers // Dec 19

I prefer not to call it a glass of water. Instead, it's an unmotivated snow cone.

Just ordered room service and was asked if it was for 2 or 3 people. Nope, just me.

It's a lot harder to text on a banana phone than you'd think.

I have very good muscle memory. I remember that it hurts to use my muscles so I eat cake and lay on the couch.

I love when my cat whines for me to hold her. Because I love holding her. It would be like someone whining that they want to give me $30.

What doesn't kill you makes you stronger. Kittens don't kill me.. Kittens make me stronger! I am KITTEN WOMAN!

My tag line is: "You're it!"

I talk to people on airplanes. That's how much I like making friends.

Cactuses totally look like they want a hug. But don't. It's a trap!

Bumper cars don't even have bumper stickers on them. Figure that one out.



Thank you for reading and for any and all feedback! Let me know which jokes you liked, loved, or perhaps confused you! :)

Don't forget to join my mailing list to find out when I'll be performing in a city near you!

New Jokes! From hot lava to airplanes! // Nov 21

I used to play hot lava when I was a kid. Now I play cold lava and just lay on the couch.

To test the theory of global warming, I put this snow globe in a microwave for 2 minutes. Folks, it's not looking good. Glitter everywhere.

Friend: Why does my stuffed animal smell like Vinegar?!?
Me: Oh, I thought this was a Pickle Me Elmo...

This trend of living in "Tiny Houses" has gotten a lot of attention from hipsters. Rednecks say, "Yeah, way ahead of you. It's called a TRAILER HOME"

Me: I'm over 6 feet tall.
Sea Captain: I can't even fathom.

Cats have 9 mid life crises! Totally explains why they're so crazy. And why she's eating lots of treats... And sleeping in the sink... And why she keeps buying corvettes...

I get pissed off when people call me a ma'am.
I wonder if that's how kittens feel when you suddenly call them a cat.

Turns out NASA accidentally used the money we gave them to crochet moon blankets and make friendship bracelets out of moon rocks. We said to make a spacecraft! Not do a space craft!

At the meet and greet today, a woman asked who my "nay sayers" were.
I told her, just horses.

My friend once told me that he was in the mile high club. I told him I don't give a "flying fuck" whether you're in the mile high club or not.

Thank you for reading and for any and all feedback! Let me know which jokes you liked, loved, or perhaps confused you! :)

Don't forget to join my mailing list to find out when I'll be performing in a city near you!
My schedule! It's updated all the time.

UPCOMING SHOWS:
2016

Jan 13 – 7:30pm – Zanies Nashville –> Get tickets here.
Jan 16 – Brewhaha – Los Angeles
Jan 18 – Dave Thomason Show – Los Angeles
Jan 26 – University of Minnesota College gig – Minnesota
Jan 30 – Riot LA fest! – Lost Angeles
Jan 31 – Riot LA fest! – Los Angeles
Feb 5 – 10pm – Punchling Punchout at The Nerdist School – Los Angeles
Feb 14 – Courtyards of Andover special Valentines Day show – Minnesota
Feb 17 – University of Pittsburg college gig – Pennsylvania
Mar 1 – LA show
Mar 24 – Flappers Women in Comedy Showcase – Los Angeles
April 2 – Mankato, Charity show – Minnesota
May 21 – Walk for Victory, Pasadena California
Jun 2-4 – Limestone Comedy Festival, Bloomington Indiana
July 28-31 – I'll be at WIZARD CAMP!
Aug 3-7 Marfan Syndrome conference

I'm on Facebook and Youtube and Instagram and Twitter.

And checkout my UNICORN BLOG!

Don't forget to join my mailing list!