 Andy Erikson - Last Comic Standing Invitationals set
Watch as I make my television debut on Season 9 of Last Comic Standing!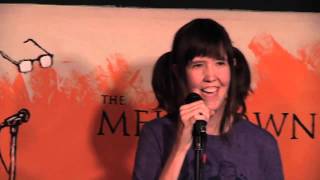 Andy Erikson at The Meltdown
Andy Erikson performing a showcase set at The Meltdown show with Jonah and Kumail at Meltdown Comics. There's a pretty neat surprise at the end too.
Join My Mailing List!
Stay up to date with my comedy unicorn adventures and upcoming shows!
Join Now!
Contest: Too poor to buy your Album, Andy!

Life is crazy, and like many Americans I am strapped for cash. Buying a comedy album just isn't in the cards and I totally understand!

I mean, I don't have any extra money either. I'm a comedian! We get paid in drink tickets and "stage time!"

I'm technically poor. My shoes cost less then $10. NONE of my stuffed animals even HAVE shoes. I use garbage for cup holders. My cat doesn't have health insurance and her cat toys are old IKEA parts and clumps of her own hair. I mean my iPhone is 2 years old people!

So I decided to have a contest asking people to tell me how poor they are and why they can't afford my CD. The winner gets a free copy! Some people responded by asking if I needed money, which was very sweet, THANKS AUNT TERRI, and some people just laughed. BUT some people dove right in, played along, and came up with some SUPER funny stuff. It's just meant to be silly and fun and I hope you enjoy!

Here are the best reasons why people can't afford my CD:

"I sold aluminum cans to go see the last comedy show I went to. I have dog trained to only eat half the squirrel and save the rest for me. My outhouse just burned down. I'm using a old typewriter to make this comment." – Sam H.

"I am so poor the bank repo my wallet." – David J.

"I'm too poor to buy your album because I spent all of my money on Blow. Literally, like 30,000 DVD copies of Blow… in case anyone needs one." – Amanda L.

"I'm so poor I took the free drink I got for performing on my last show and sold it for half price, then I had enough for a subway ride home." – Shawn C.

"I am so broke, that if I won the CD, I'd have to rig up a flash light or something to play it." – Margaret C.

"I am the proud owner of a tiny, money-sucking moocher… Aka, I have a child." – Jennifer W.

"I am poor-I live in a 192 sq ft cabin without even running water, (so my water doesn't have running shoes either) but I like my simple living and my iPhone 4 😉" – Saumara M.

"Would love to buy your new CD but I'm so in debt I could start a government!" – Jeff M.

"I'm a teacher…'nuff said" – April S.

"I'm so poor I have to write "I'm sorry" in the memo section of my rent checks." – Kelly L.

"I would buy your CD but my cat still won't pay his share of the rent, that deadbeat." – Alex J.

"Chocolate and glitter aren't going to buy themselves, so I'm broke" – Emily T.

"I'm poor because I'm married to Andy Erikson. 50% of all the cat hugs just isn't enough anymore!" – Alex S.

"I'm the hotel, clothes washer, restaurant, chauffeur, and bank to the alien I gave birth to almost 11 years ago who swims and dances! That's why I'm poor…" – Sara F.

"My cat, Birchwood, raided my purse, took my money, and went on a bender. He's sleeping it off…" – Berta I.

"I'm poor enough that I can't afford to have a pet cat…or a pet anything for that matter. I'm hoping to get a free copy of your album so that I can have a pet CD. I'll promise to feed it every day…if I can figure out which side of the hole to put the food into." – David B.

"Dear Andy, I am long lost relative from Nigeria. I have an inheritance for you but need good faith money to secure it and get legal fees paid. Many Strong Regards, Mbutu Kwambwke!" – Daniel K.

"I just bought cheese at the dollar store." – Mike H.

"I'm your mother and you owe me your life….
I would love an album for my birthday present. Hint hint.
Besides… I'm too busy spending your inheritance to have any money." – My Mom

"I'm so poor I can't even afford real sheep to count to fall asleep.. they're stick puppets made out of glue, paper, tears, and the eternal emptiness, loneliness and futility of my existence…." – Aaron D.

Oh man, I don't know how to pick a winner! Want to throw your hat in the ring? Comment below and I will add it! This was pretty fun

If you do happen to have spare money you can preorder the album here!

Why I Don't Talk About My Heart Condition On Stage

Hello. My name is Andy Erikson and I'm a standup comedian. Oh, and I have Marfan Syndrome. You can read all about it here in this post if you would like some more context.

So lets dive in: I don't have any jokes in my act about Marfan Syndrome. I don't mention my heart condition and rarely bring it up on stage, and I've been wondering why. In this article I'm going to explore why I don't talk about my heart condition on stage, something that has been on my mind lately. I would love to hear any feedback or personal experiences from readers with and without Marfan Syndrome. The comments on my last post were insightful, inspiring and overall amazing and I want to thank all of you in advance for taking the time to read and then taking the time to comment. It means the world to me. I will also have information about my new album in this post as well if that is something you are interested in.

Okay, so here goes nothing.  (more…)